Bicyclists have certain rights to use the road, but accidents caused by careless drivers happen far too often. Unfortunately, cyclists are much more likely to be seriously injured than the drivers who hit them. Reports suggest around 500,000 bicyclists end up in the ER each year, and in 2019 (the most recent year for which full data has been released), 846 bicyclists died of their injuries.
No one wants to think about getting in an accident, but planning ahead can help you take the right actions after being hit. Collisions—or even close calls—can flood your system with adrenaline. As with any emergency situation, knowing the steps you will take ahead of time can help you minimize damage.
The "After an Accident" Checklist
Call Law Enforcement
Even if the other driver apologizes, even if you don't feel hurt, even if they try to make a deal with you on the spot if you promise not to call insurance—call 911 and request a police and EMS response. When the police show up, answer their questions and provide your name and address.
You should also ask the police where you can get a copy of the accident report once it has been filed. Sometimes, the final version omits important details; by obtaining a copy, you can spot errors and request they be amended.
Otherwise, Keep The Details of the Crash to Yourself
Insurers are notorious for using the smallest of statements against you in a claim. Aside from the police, you should keep your version of events to yourself. This means not discussing what happened with bystanders or giving written or recorded statements until you have an attorney on your side.
Gather Contact Information from the At-Fault Driver and any Witnesses
It's important to know who hit you, so you know where to file an insurance claim. The police should also ask for this information, but just in case, make sure you have it on file so you don't find yourself without recourse.
If anyone else saw the crash and stopped to assist, you should also ask them for their name and contact information. In auto accidents, the parties sometimes tell a different story of how the incident occurred. The testimony of a neutral witness can be the deciding factor in a claim. Law enforcement often gets the contact information of witnesses, but sometimes they miss a witness.
Take Pictures (and Notes)
The crash scene can also hold valuable clues an accident reconstructionist can use to determine the truth of what happened. Snap several pictures of your bike, the car, and the scene where the accident occurred. If you can, you should take pictures of your injuries as well.
You may also want to use this time to write down a short summary of what happened, as the details might slip away from you in the coming hours and days. Having a solid record of events will work in your favor.
What to Do After Leaving the Scene
Visit Your Doctor or Go to an Emergency Room or Urgent Care Clinic
After any kind of traumatic accident, you should seek medical attention. Often, bicyclists who are hit very hard can still stand up after the accident, and therefore think they are okay. However, they may still have concussions or other serious injuries they don't notice. Adrenaline can block you from feeling pain, so it's entirely possible to not realize an injury in the moment.
Make sure you get a full checkup from a doctor who knows how to examine patients after car and bicycle accidents. Their notes and the additions to your medical record may become essential to your case. You should also do your best to follow their exact instructions regarding your injuries.
Keep Your Own Medical Notes
As you heal, keep track of your progress daily. Your notes should include how you feel, but also things like actions you took because of the injury and effects of the injury on your day. Between things like missed work for appointments, extra expenses for medical items, and the discomfort of trying to heal, the damages you suffer can add up quickly. The more closely you document them, the easier it will be for you to recover compensation.
Keep Your Bike (and Other Items) As-Is
Especially if you need your bike to commute, we understand you might want to get it repaired as soon as possible. However, everything that was involved in the accident—your bicycle, your helmet, even the shoes and clothing you were wearing— can be evidence. You should try to maintain the state they were in after the accident at least until you talk to an attorney, and possibly longer.
Remember, in an accident claim you can recover expenses like the cost of Uber rides you had to take while your bike was damaged. However, without proper evidence, recovering full compensation becomes less likely.
Make an "Evidence Folder"
If you don't have a folder laying around, designate a spot on your desk or counter to keep items such as medical bills, receipts for other goods or services you needed because of your injury, and information from the accident like the driver's contact info and a copy of the accident report. An insurance company will require you to prove your claim, and having everything in one place will make your life easier.
At the same time, we understand it can be time-consuming to hunt down evidence, especially if you're trying to recover from an injury. Don't worry if you're not able to get everything. Our team can help you track down medical records, accident reports, CCTV footage, and other important pieces of documentation that are in others' possession.
Call a Lawyer
Before you even talk to an insurance company, it's a good idea to get a strong lawyer on your side. Remember, insurers typically do not want to pay the full value of your accident claim because that means less money in their pocket. It takes experience and skill to recover the full amount you deserve.
You can call our team any time to schedule a free consultation to learn more about your rights. We can help with everything from preserving evidence, to investigating the accident, to negotiating with an insurance company. If necessary, we can also litigate your case; however, many bicycle accident claims can be resolved before they go to court.
Your Downloadable Accident Checklist
Keep this graphic in your seat pack or saddlebag, or just stick it in the bag you wear when you're on your bike, for a step-by-step checklist to guide you after an accident.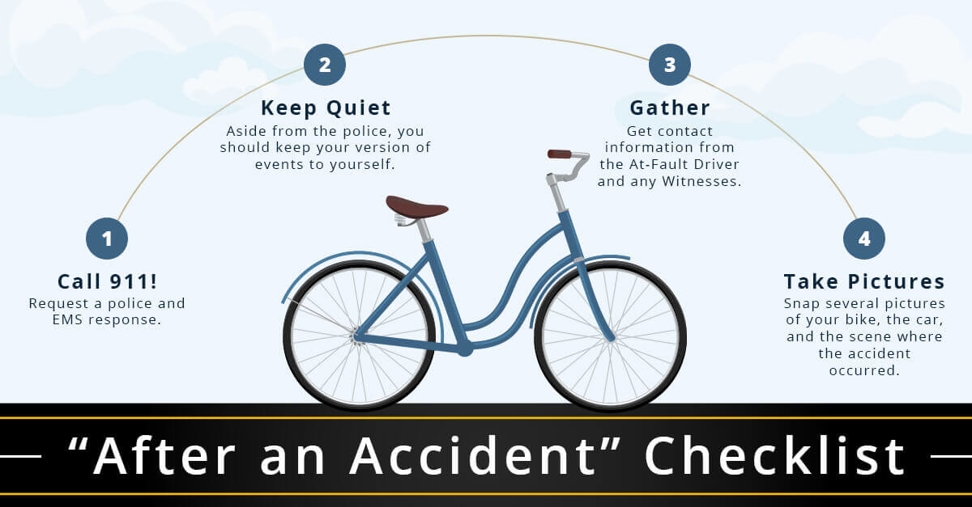 We're Ready to Help
Being hit by a negligent driver is scary. Even aside from the harm and challenges serious injuries can introduce into your life, the experience of going unseen by a negligent driver can be disorienting and even dissuade you from riding a bike again. If you're trying to find your next steps after a serious injury, you deserve a supportive law firm on your side. Since 2000, Cutt, Kendell & Olson has been serving clients across Utah in serious injury cases. We aggressively fight each case and have a legacy of success to show for it.
Do you need help filing a bike accident claim? Call us at (801) 901-3470 for a free consultation with one of our experienced lawyers.