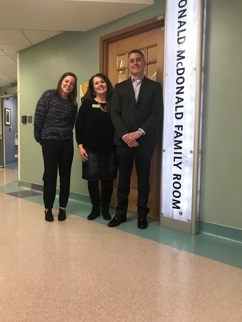 Cutt, Kendell & Olson recently made a generous donation to the Intermountain Area Ronald McDonald House Charities (RMHC) to sponsor the 2nd floor Family Room at Primary Children's Hospital in Salt Lake City. The Family Room provides a temporary home-away-from-home for children and families throughout the region who are being treated in Primary Children's Hospital ICU.
This week, CKO managing partner, Jordan Kendell, had an opportunity to visit the Family Rooms at PCH and learn more about the thousands of families that utilize RMCH services. He said, "It is impossible to overstate the importance of Ronald McDonald House Charities' work in our community. These families are in desperate need of the wrap-around services and resources that RMHC provides. We are fortunate to be in a position to support their work, and support the families they serve."
With our sponsorship, Primary Children's Hospital will continue to maintain, update, and expand its Ronald McDonald Family Rooms, which provide a comforting, home-like environment and conveniences at no cost to parents and families – many of whom travel to the hospital from all areas of Utah, as well as Idaho, Nevada, Montana, and Wyoming.
PCH's first Family Room, built in 2013, is the largest in the world. Spanning more than 3,500 square feet of the main hospital's third floor, the Family Room is available free of charge to families with children being treated by PCH. Its amenities include: fully stocked kitchen and dining facility, private showers, private meeting spaces, laundry rooms, and four overnight retreat rooms offer needed conveniences to thousands of families each year.
Thanks to its partnership with Ronald McDonald House Charities and others who selflessly support and donate, Primacy Children's Hospital recently opened its second Ronald McDonald Family Room in 2017. Open 24/7, the facility provides a private and comfortably appointed space for parents with seriously ill or injured children receiving care at PCH's Pediatric ICU, Cardiac ICU, and Neuro Trauma Unit. All amenities are provided free of charge just steps away from a child's patient room.
CKO: Salt Lake City Personal Injury Attorneys Who Give Back
Since opening our doors in 2000, Cutt, Kendell & Olson has taken a different approach to representing the victims, families, and communities we serve following preventable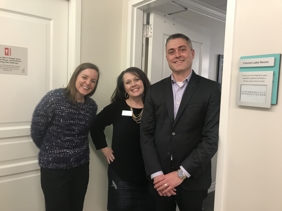 injuries. We know first-hand the financial and emotional stress that families go through when a loved-one is undergoing medical treatment for a serious illness or injury.
Our support for organizations like the Ronald McDonald House Charities and the Family Rooms at Primary Children's Hospital is one of many ways we give back to the communities and residents who so often place their trust in us during difficult times, and something we're truly passionate about.
We're proud to play a part in making lives a little easier for families and children battling injuries and illnesses at Primary Children's Hospital. It's the same objective we have as a Salt Lake City personal injury law firm focused on serious personal injury cases, defective products, and preventable accidents, and what we strive to achieve each and every day.
You can find more information about the Ronald McDonald House Charities of the Intermountain Area and ways you can support here. If you would like more information about our firm, our practice areas, or how we may be able to help you, contact us.