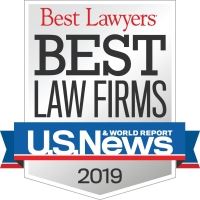 In 2000, we began our firm with a singular mission: to serve seriously injured Utahns with an unparalleled dedication and focus. Since then, our personal injury attorneys have secured millions of dollars in verdicts and settlements for our clients in matters ranging from serious brain injuries, and wrongful death, to sexual assault and defective products claims.
After so many years of service in this field, we're delighted to announce that for 2019, Cutt, Kendell & Olson has been named one of Utah's "Best Law Firms" by U.S. News & World Report Best Lawyers. This is the second consecutive year that our firm has won this prestigious ranking in the field of personal injury litigation, and we're honored to accept that title once more.
What Is the U.S. News & World Report Best Lawyers Ranking?
The rankings for U.S. News & World Report Best Lawyers are carefully determined each year, after a series of rigorous evaluations. Every law firm that qualifies can be listed as one of the "Best Law Firms" for their given state that year.
In order to qualify for the initial review, a law firm must have at least one attorney who has been recognized in a current edition of Best Lawyers. Once qualified, the law firm must submit professional references, a law firm survey, an extensive client list, eligible practice areas, and other data, as well as submit to surveys from Best Lawyers ballots.